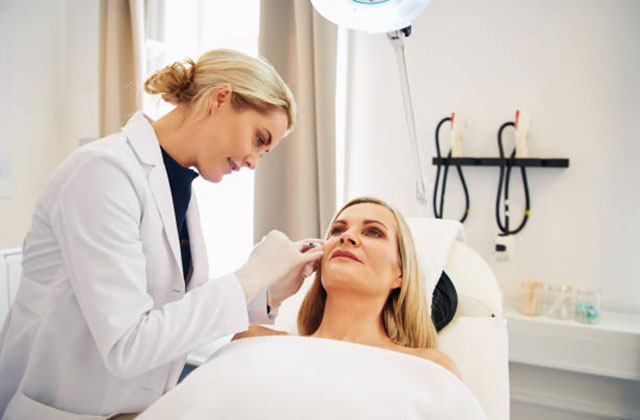 Dermatology Associates offers the full spectrum of general medical dermatology and cosmetic dermatology services in a professional, friendly and comfortable environment. Dermatology Associates was founded in 2002 by Monica Bedi, MD under the main premise of treating all patients as she would her family. She still feels this is the cornerstone of care and expects this from her entire team. We treat every patients conditions on an individualized basis and offer you the most advanced treatment options. We make YOU the center of your treatment plan in order to ensure the best outcomes.
Our goal is to help you achieve and maintain healthy, beautiful skin, hair and nails, and control factors that contribute to premature aging and skin damage.
If you're in need of a dermatologist to treat a concerning growth, skin cancer, acne, a pigmentation disorder, melanoma, or any other condition or disease that affects the skin, your source for comprehensive medical services in Sarasota, Florida and surrounding areas, is Dermatology Associates.
Our team of board-certified dermatologists specializes in diseases of the skin, hair, and nails and is highly experienced in diagnosing and treating a wide array of dermatological conditions. Our expertise allows us to provide treatment for all patients, even those with complex disorders who have not been able to find relief elsewhere.
Whether you're dealing with dermatitis, shingles, hair loss, or psoriasis, Dermatology Associates can help you understand what it is and what your treatment options are. We take a personal approach to medical skin care, helping our patients feel at ease and treating them as we would our own family members. When you make an appointment with us, we'll discuss and treat as many conditions as possible in a single visit to maximize your time. We also offer same-day appointments, so you can receive prompt attention for any of your concerns. As a large practice with a small office feel, we provide compassionate, cutting-edge, and comprehensive care for the whole family.
Medical  Dermatology
Medical Dermatology conditions that we diagnose and treat include, but are not limited to:
Skin Cancer Screenings
Atypical moles, skin cancer screening and treatment including skin cancer surgery and Mohs Micrographic Surgery, and melanoma screening
Skin Cancer/Benign Growths: skin tags, precancerous skin growths, lumps, bumps, and keloids
Psoriasis/Rashes: including itching, redness, rashes, rosacea, eczema
Acne/Rosacea: Adolescent and adult acne
Skin Infections and cysts
Disorders of Pigmentation & Discoloration
Dry skin, scaly skin, sweaty palms/feet and underarms, contact dermatitis
Poison ivy, bed bugs, and skin allergies
Hair and scalp problems including alopecia (hair loss), and dandruff
Scleroderma, cutaneous autoimmune disorders, morphea, and cutaneous lupus
Skin ulcers and systemic diseases that produce changes in the skin
Disease of Hair and Nails
Cosmetic Dermatology
Cosmetic Dermatology services that we offer to improve and enhance the appearance of the skin include:
BOTOX® Cosmetic cosmetic for treatment of facial wrinkles.
Dermal fillers such as Juvederm, Voluma, Sculptra, Restylane for correcting deeper wrinkles around the mouth, chin, under-eyes (tear-trough), cheekbones.
Medical Grade Facials & Peel for deep cleansing, exfoliation, acne treatment, and to improve skin tone and texture.
Microchanneling to refine and rejuvenate the skin
Photodynamic therapy and non-surgical photorejuvenation to treat skin imperfections like age spots, sun spots, sun damage, and hyperpigmentation
Laser Skin Rejuvenation to reduce skin imperfections like acne scars, red spots, age spots, sun spots, skin discoloration, lines and wrinkles, and provide skin tightening