Dermatology Associates & Medical Spa offers Injectables & Dermal Fillers to patients looking for the highest level of expert care & injection technique. We want you to reflect the best YOU and offer the latest in cosmetic dermatology. Our focus is to give you the education and tools needed to give natural results in a comfortable environment.
In addition to offering high quality medical grade at home skin care products, sunscreens and many cosmetic treatments at all of our locations, we are pleased to offer specialized services at Reflections Med Spa at our Sarasota location.
Restore your youthful appearance and improve your confidence with aesthetic injectables and dermal fillers. Addressing your cosmetic concerns is easier than ever with the advanced, non-surgical treatments offered by our highly skilled medical professionals at Dermatology Associates & Medical Spa located in 4 locations across the West coast of Florida. We offer a broad selection of cosmetic injectable treatments to help you achieve your aesthetic goals.
One of the most popular non-surgical cosmetic treatments, BOTOX® works to keep your face wrinkle-free by relaxing facial muscles. These muscles become tense from years of repetitive action (laughing, smiling, squinting), leading to lines on the face. Our collection of dermal fillers are specific to filling, lifting and smoothing facial lines and creating the perfect lip with lip filler enhancement that lasts up to 18 months.
We personally invite you to a private, one on one complimentary consultation to learn which injectable/dermal filler is right for you.
Neuromodulators
BOTOX® Cosmetic
Jeuveau
Xeomin
Dysport
Daxi (coming soon)
Dermal Fillers
Juvederm® Collection
Restylane® Collection
Radiesse®
Revanesse® Versa
Revance RHA® Collection
Sculptra®
What are BOTOX®, JEUVEAU®, XEOMIN, DYSPORT?
FDA Approved to temporarily make moderate to severe frown lines, crow's feet and forehead lines look better in adults
A quick 10-minute treatment with minimal downtime
You may begin to notice results within 4-7 days for moderate to severe frown lines that last up to 3-4 months
It delivers predictable, subtle results, so you look like you, only with less noticeable facial lines
FDA approved to treat the frown lines and can also used on other areas of the face and neck to correct the visible signs of stress and aging. Botox® may also be used for the treatment of hyperhidrosis, or excessive sweating of the axillary (underarms), palms of hands, and soles of feet. After years of squinting, laughing, frowning, smoking, and worrying, the skin around the eyes, nose, mouth, forehead and neck will often develop deep lines or wrinkles called "expression lines." A frequent concern is that they often make you look mad, older, tired and stressed. BOTOX®, JEUVEAU®, XEOMIN, DYSPORT relaxing significantly decrease expression lines at rest.
What is treatment like?
Our expert aesthetic injectors outline the areas of concern with each patient during a complimentary consultation. Treatment is effective, safe, and takes approximately 10 minutes. The pain is a minimal "pin prick" and no anesthetic is required. Immediately following treatment, you may resume regular activities!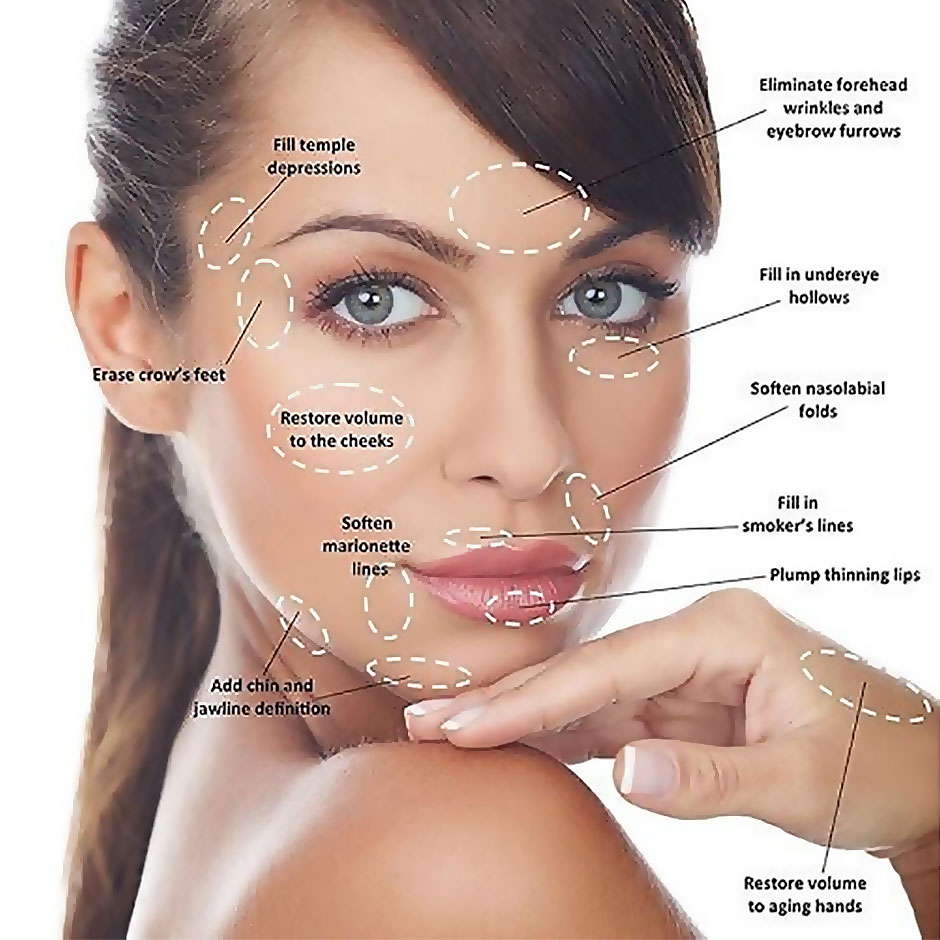 LIFT IT. SMOOTH IT. PLUMP IT.
JUVÉDERM® is the #1 dermal filler collection in the world that offers 5 different products to meet your specific needs. Add volume to plump lips, smooth lines, or lift & contour cheeks—we have what you need to get the results you want.
JUVÉDERM® VOLUMA™ XC injectable gel is for deep injection in the cheek area to correct age-related volume loss and for augmentation of the chin region to improve the chin profile for a sculpted contoured side profile.
JUVÉDERM® VOLLURE™ XC and JUVÉDERM® XC injectable gels are for injection into the facial tissue for the correction of moderate to severe facial wrinkles and folds, such as nasolabial folds.
JUVÉDERM® VOLBELLA™ XC injectable gel is for injection into the lips for lip augmentation and for correction of perioral lines in adults over 21.
JUVÉDERM® Ultra XC injectable gel is for injection into the lips and perioral area for lip augmentation in adults over 21.
Revanesse® Versa™ is a hyaluronic acid dermal filler we use to treat moderate to severe facial wrinkles and folds, including nasolabial folds. This formula has been a hit worldwide and is quickly becoming a favorite of patients and providers alike. Some other common issues that can be fixed with fillers like Revanesse Versa include:
Flat Cheekbones
Lacking volume along cheeks and under eyes
Harsh lip lines
Wanting to restore symmetry in facial features
Droopy brow line
Sagging skin around the mouth or nose
RADIESSE®  is an injectable filler that works by immediately restoring facial volume to smooth out the signs of aging. RADIESSE is a collagen stimulator which, stimulates the body's process of generating collagen and encourages growth, for a more refreshed appearance, so beauty can bloom. Once injected, it stimulates the production of natural collagen for results that may last a year or more. Visible results can be seen immediately.